We were forced to turn back after the weather turned quite nasty and we weren't prepared for the snow or extremely cold temperatures.
This would have been an awesome hike!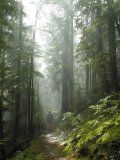 Just because it's nice in Seattle doesn't mean it's nice in the mountains!
The snow starts damn early in the Cascades.