July 9, 2000 - Goat Lake
Elevation Gain: 1300 ft
Time (RT): 5 hours
Distance (RT): 10.4 miles
Difficulty: Easy, but long...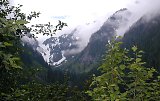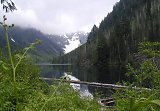 The trail wasn't as crowded as I expected... although the weather wasn't as nice as we had hoped...
We didn't realize the original trail had been rebuilt, and took the old logging road.
Oh well, an excuse to return!